Land of the peeping toms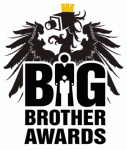 Privacy is percieved as one of the most elementary human rights, and also one of the most contended ones. There are those that argue that every time someone stays anonymous in any given context, the terrorists win and civilization as we know it dies a bit more. Other see privacy as one of the best safeguards for democracy and the constitutional state.
A collective of digital human rights groups presents those who fight privacy in the most creative and sinister ways with the Big Brother Awards each year since 1999. This year, the candidates include companies like Sony BMG and Siemens and folks like our minister of the interior. Unlike the Academy awards, however, it's unlikely that the people presented with this most prestigious prize will be there to accept it.
This years' ceremony will take place in the Rabenhof-Theater on October 25th, the eve of our national holiday. The show starts at 20:00, and entry is free.